New Mermaid Story from Mermaiden Jia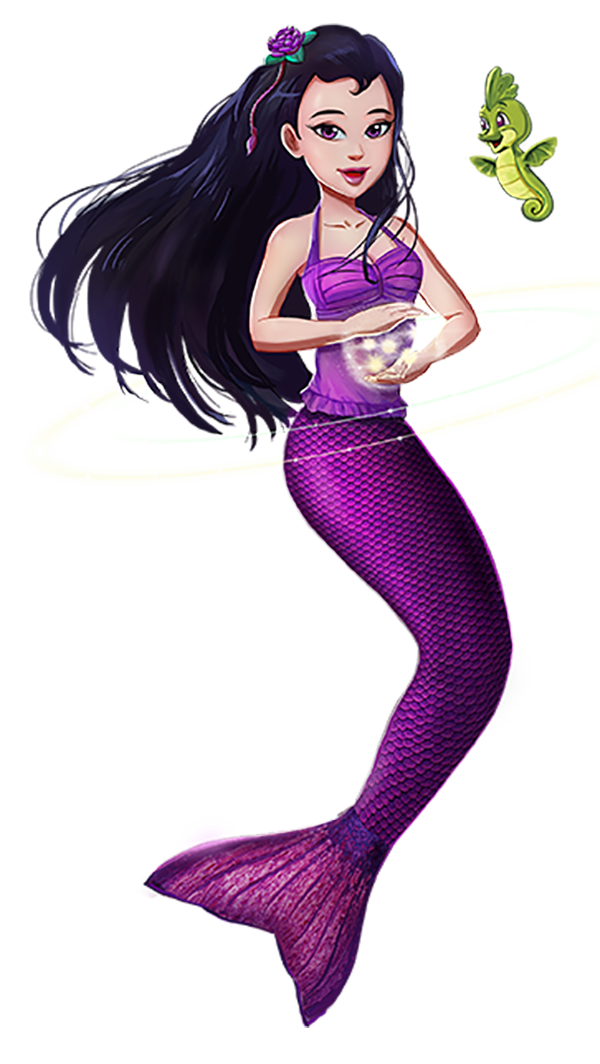 I was lying on my stomach in my garden, trying to coax a bed of buds to open when I heard the shouting. Curious, I poked my head from the cover of my garden dome, content to stay hidden if I wasn't needed. I saw a flash of orange, then red, and suddenly I was pushed backwards as three someones entered my refuge.
I floated backwards silently for a moment, open-mouthed and voiceless. Destiny was at the opening of my little garden, breathlessly pressing herself against the sloped wall, peering out as if to make sure no one was coming. Beside her, and looking much less interested in being inconspicuous, was a tall and very beautiful mermaid with a red tail, pouting lips, and an unfriendly expression. Behind her, a swordfish with a nose as long as my upper body prowled impatiently. As I looked closer at the ancient looking fish, I noticed a hook that pierced his dorsal fin, looking rusted and painful. The area around the hook looked raw and infected. I tore my gaze from him and refocused on the matter at hand.
"Destiny!" I finally blurted. "What are you doing here?"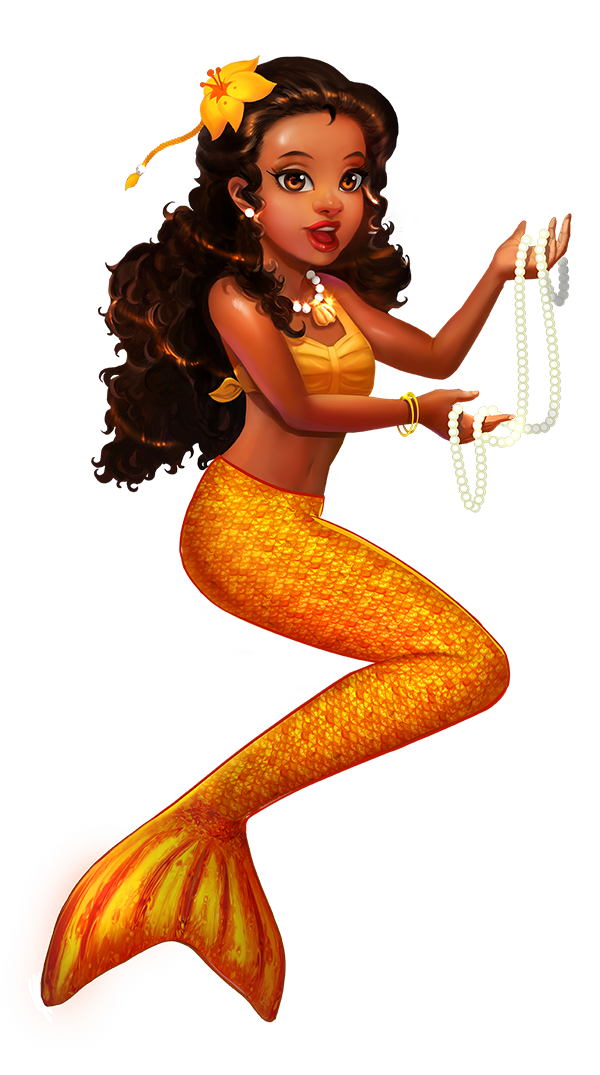 Destiny turned from her hiding place and beamed at me. "Jia!" she rushed forward to hug me. "I'm so glad we found you! Your kingdom is so much bigger than I expected."
"Who were you hiding from?" I asked with interest, peeking out the opening.
"No one!" Destiny answered cheerfully. "Hey, so let me introduce you to someone! This is Scarlet."
The name clicked as I studied the sultry visitor again. "Hold on," I said uncertainly. "Scarlet? As in Scarlet the Pirate Thief?"
The red-tailed mermaid looked weary, but she nodded all the same. Destiny looked from her to me, her pretty features scrunched up in confusion. I explained. "For the past ten years there's been a legend of a beautiful mermaid with a blood red tail that follows pirates while they sail across the Seven Seas and just as they find their reward, she steals the treasure and stashes it somewhere. There have even been some that now devote all their time just to finding Scarlet's hidden stash. No one has ever found it."
"And no one ever will because it doesn't exist," Scarlet muttered.
Destiny studied her companion for a moment. "Well," she said suddenly. "It doesn't matter. We're here for a very different reason. Jia, what do you know of the Mariana Kingdom?"
I thought for a moment. "Nothing. I've only heard the name once. I overheard my father say something about it once but when I asked him, he told me it was a tragedy that happened a long time ago and to forget the name. Why?"
"Well," Destiny glanced at Scarlet. "We need to know more about it. We need to talk to your father."
"I doubt he'll tell you anything. When my father chooses to keep a secret, there's no one in the entire ocean who can convince him to divulge it."
"We'll see," Destiny said determinedly.
I sighed and shook my head. "Alright, I'll take you to him. But don't expect anything."
I led them all inside, wary of the swordfish that still sulked about and whom everyone seemed content to ignore. As soon as the palace doors swung open to permit us to enter, Akiko zipped to my side with her usual enthusiasm. She licked Destiny's face, nibbled on the end of Scarlet's knife sheath, and even gave the swordfish a friendly whinny.
"Your friend is quick," said Scarlet as we angled our ascent to the next level, towards my father's throne room. "None of the seahorses I have ever met can swim well."
I smiled. "Yes. It was a side effect of my healing. When I first found him, his fins were badly torn and broken. I mended them and now they're better than new."
"Oh? So you have a power too? To heal?"
"Yes. The Mermaiden from each sea has a power."
"What are the others?"
"Creating ice, communicating with animals, controlling color, producing light, and forming waves."
"Fascinating," was her only reply.
We stopped outside my father's throne room. I knocked twice and the doors slid open. As we made the long swim to where my father sat patiently, I tried to suppress my rising hope that Destiny and Scarlet could somehow convince him to give up his long kept secret.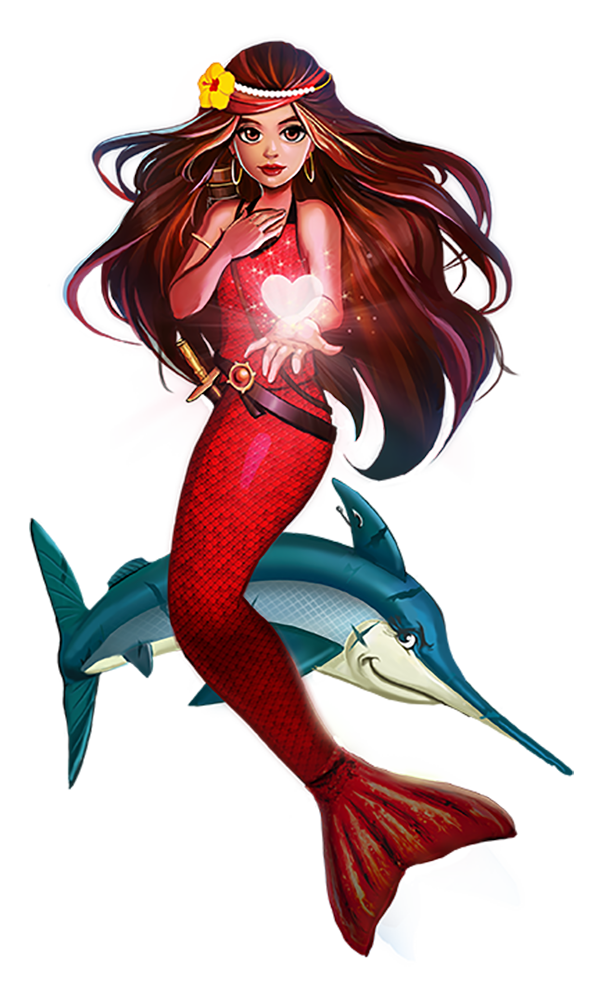 "Jia," my father's gentle but firm voice resonated as we drew closer. "Introduce your friends to me."
"Yes, Father. This is Destiny, Mermaiden of the Caribbean Sea. I think you met at the MerCouncil." Destiny gave a friendly curtsy and my father smiled at her. "And this is her friend, Scarlet and her…um…companion." My father's eyes widened just the tiniest bit at the mention of Scarlet's name but then his eyes shifted to her swordfish and his jaw dropped open. Scarlet bowed deeply. "His name is Excalibur, Sir. Or Cal, if you wish."
My father rose slowly and descended his throne, amazement in his dark eyes. "Excalibur," his voice sounded choked with emotion. "It is an honor to meet you again."
I froze. Destiny's mouth moved silently and she sputtered like a fish. Scarlet found her voice first. "What do you mean by again, Sir? Where have you met Cal before? Do you know about the Mariana Kingdom?"
Father looked up from where he stood in front of Excalibur, looking like he'd been woken from a very deep sleep, a dream (or possibly a nightmare) that took place far from where we were. It took a moment for him to realize that her barrage of questions had been aimed at him. Then he set his jaw and I knew he had made up his mind.
He turned to seat himself back on his throne as he began to give orders. "Jia, gather provisions for a short journey for you and your companions. You will travel to the Coral Sea tonight with a few of my select guards. You will use the transport caves to save time and you will take Excalibur to Mermaiden Zoey so that she may try to communicate with him, try to hear his thoughts." I looked at Destiny to see if she was as surprised as I was that Zoey might be capable of hearing animals' thoughts. From the confused look on her face, it seemed she was.
"If she is able to communicate with Cal, you will bring her back with you when you return," Father continued, "If not, thank her for her efforts and return without her. You are to tell no one of this expedition and complete your journey as quickly as possible. I will contact King Brock and tell him to expect you for a short visit. Go."
His tone left no room for discussion and we turned to go immediately. "Good luck, my daughter," I faintly heard my father say just as we slipped out the gigantic doors.