Great Mermaid Party Ideas!
Are you the kind of girl who can't get enough of mermaids?
When you stare at the night sky do you see starfish?
Are you starting to call your little sister "Finfriend"?"
If you answered yes to any of these questions you should definitely have a mermaid party!
We at Fin Fun have surfed the web and found incredibly fun food, great games, magical decorations, imaginative invitations, and playful party favors that will fit a wide variety of budgets.
Follow Fin Fun Mermaid's board Mermaid Party on Pinterest.
Mermaid Party Decor and Food
First, we suggest to set the scene with great décor—your own enchantment under the sea.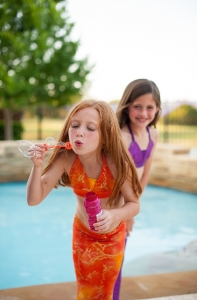 Bubbles are a must. Have someone blowing bubbles or even use a bubble machine. You can even give bubbles as a party favor.
If it's summertime, have your party at the local pool and have all your friends wear their mermaid tails!
Find food that doubles as décor. Set out bowls of Swedish fish, gummy sharks, or saltwater taffy for quick, no-fuss snacking. You can make edible sand by running graham crackers through your food processor. You can cut a watermelon into a super cool shark head.
Sharp teeth are carefully carved from the rind and a fin is attached with toothpicks. For step-by-step instructions go to sunscholars.com.
Dine in style! Use cookie cutters on a premade pizza crust for starfish-shaped pepperoni pizza. Also get a recipe to make a seashell pasta salad. You can find those recipes and more at bubblynaturecreations.com as well as more fun, kid-friendly mermaid-themed food ideas.
As always, pinterest.com has a lot of ingenious ideas. One of our favorites was a crab made out of apple slices. A half of apple is turned upside down with three slices of apple laid out on each side and two more slices cut as claws in front. So cute! They also use a croissant to make a "crab" sandwich with olives on toothpicks for eyes and the ends of the croissants as the pinchers. Or make an aquarium with clear plastic cups, blue Jell-O, and fish-shaped gummy treats. You will also see some amazing and elaborate mermaid birthday cake ideas.
Make an enchanting edible octopus by frosting large marshmallows and piping more frosting for tentacles. Add eyes. Super fun, cute, and easy. We found those cuties at karaspartyideas.com. Although that site is short on instructions, it does provide lots of photos and links on where to purchase the materials or featured items.
Mermaid Party Game Ideas
Bring your party up a notch with mermaid party games.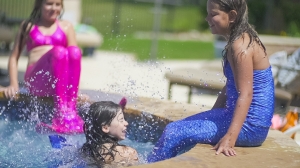 Use a big, blue bed sheet to play "Under the Sea." Have the children hold a corner or edge and say, "Under the Sea, Under the Sea" and then have an adult call the names of two party guests, "Riley and Tyler, dive under the sea." The two guests will run under the sheet and grab a stuffed fish or other soft object that they can add to the "sea." They can throw the object on the sheet and bounce it around while others guests have a turn diving under.
Play Pin the Flower on the Mermaid. Print out a picture of your favorite mermaid such as one of Fin Fun's mermaiden coloring pages. Make photocopies of her flower. Then see who can come closest to pinning the flower in the right place.
Do a treasure toss where party guests toss gold coins into a treasure chest or fishbowl or a fish drop where guests decorate a clothespin to look like a fish or a mermaid. Then they hold it over a glass jar and see who can drop in the most.
Find or make a mermaid piñata—always a favorite! If you can't find a mermaid you could use a fish. Play "Red Rover, Red Rover" and send Jia, Waverlee or Zoey right over!
We found most of these games at www.easy-party-ideas-and-games.com.
Mermaid Party Favors
Starfish pendants, shell bracelets, pearl necklaces and silver pewter seashell earrings are fun jewelry choices for party favors. Other mermaid favors include buttons, mirrors, brushes and combs, soap shaped as seashells, stuffed seahorses, lollipops, and even mermaid-shaped crayons! At etsy.com many of the party favors can also be personalized such as water bottles, printable party tags, or bottlecap pendants.
If you enjoy crafts, you might want to make your own decorations or invitations. Go to redtri.com and click on whimsical under the sea birthday party to make jellyfish decorations from paper bowls, ribbons, and googly eyes. Invite your fellow mermaid partiers with a message in a bottle. The site offers examples of party invitations with rolled up parchment paper stuffed into a glass bottle filled with sand and shells. You can also make a bubble necklace. Have an adult help thread a needle. Assemble a color pattern of large gumballs, then poke the first one and pull the thread through. String all of your gumballs on to make a fun and edible necklace.
At livingwellspendingless.com you can find pictures of fun décor and ideas for a beachy mermaid party. Plus the site breaks down the costs of everything from table décor, party outfits, favors, food and craft supplies.
Instead of running to your local party shop, you can also find party supplies on-line. Target.com has a mermaid-themed party pack for 8 that includes invitations, dinner plates, dessert plates, napkins, a table cover, balloons and curling ribbon.
Remember it's the little details that make your party more memorable. So make your mermaid party the most magical yet!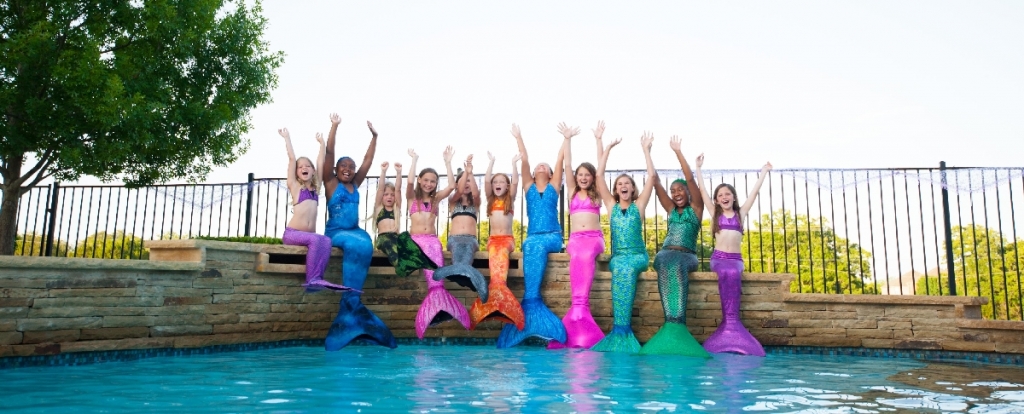 List of websites for easy reference:
sunscholars.com
bubblynaturecreations.com
pinterest.com
karaspartyideas.com
easy-party-ideas-and-games.com
etsy.com
redtri.com
livingwellspendingless.com
target.com