Here's a New Mermaid Tale from Mermaiden Waverlee!
Oh my ocean, I'm actually talking to humans?! This is so crazy! I can't even wait to tell you all about what's going on down here in the deep blue sea! First, I'll tell you a bit more about myself than I did in my first letter: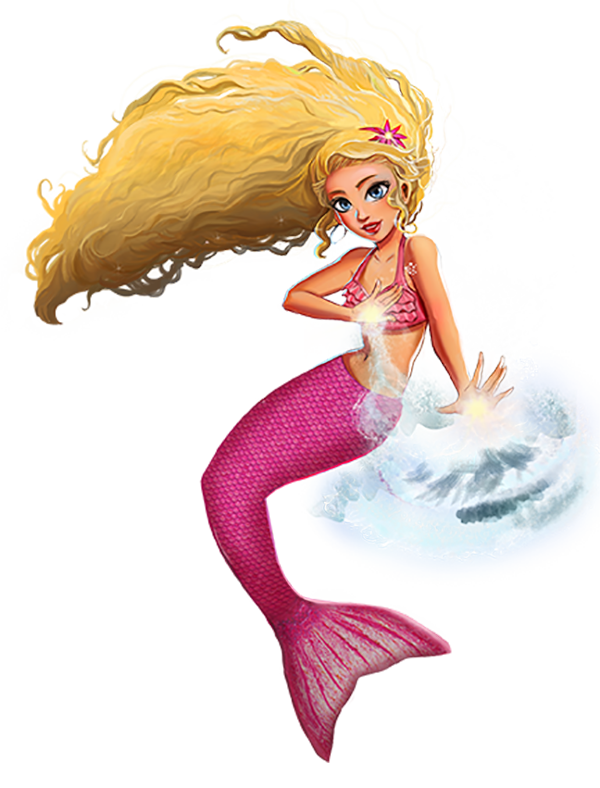 I'm Waverlee! I have a shimmery pink tail, wavy gold curls, and crystal blue eyes. My best friend is named Bubbles—he's a dolphin. I'm the Mermaiden of the Pacific Ocean (that means Princess down here in my world)! My father is King Francisco. He and I don't really look alike. He has really really tan skin and a bright blue tail which complements his eyes perfectly. I'm always trying to get him to add an emerald to his gold crown that he wears for special occasions to really bring out the streaks of green in them too, but he says then it would look too queenly. Then I tell him he does have very pretty flowing locks of brown hair. He doesn't appreciate that compliment very much.
My mother, on the other hand, does. Queen Cassandra is the single most bright, cheerful, and enchanting mermaid I've ever met! Even as she ages, my mother's smile is one of the more divine things I have ever seen. Her round, shining cheeks give off a pink glow while her green eyes wrinkle just a little at the corners and when she laughs, it's musical and very contagious. I've been told I look just like my mom and to me that's the highest compliment there is!
The rest of my family is made up of my two sandy-haired little brothers, Sebastian and Coral. They're only a year and a half apart and the silly boys do everything together! It makes me really wish I had a sister sometimes, when I see them fencing each other with swordfish and poking blowfish to make them puff up and chase each other around with the spiny things.
Even without sisters though, life isn't bad at all! I love my home here in the Pacific! I love the warm, green waters and the sandy beaches. My favorite thing to do is go to the surface and watch all of you people up there on the beach in your pretty, pretty coverings! Do you think I could have a covering like that someday? I would give anything for a bright pink covering to wear over my tummy like you all do!
My second favorite thing to do is to hunt for human treasures. I've found so many strange and wonderful things to add to my growing collection! Pieces of colored glass, long chains with charms on the end, boxes, pouches, shiny rocks, gold time tellers, and even one of those big colorful things you prop up and lay under to hide from the sun. I once asked Jia, Mermaiden of the Sea of Japan, what the shade givers were, because she's the smartest mermaid I know, and she told me she'd read about them. She thinks they're called Uhmbrellas. I call them Uhm for short.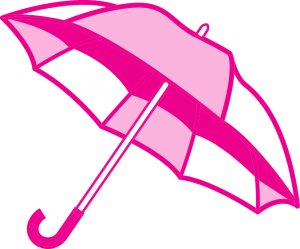 As nice as the surface is though, my home is pretty spectacular. The palace we live in is made of millions of shattered seashells, compressed and molded and smoothed over time to create layers upon layers of a fantastic blend of color and texture in each wall. When the sun is highest in the sky, just a little light makes its way down here and shines on our amazing home, making it positively gleam! I'll never stop being blown away at the miracle of it all!
I can't seem to keep my tail in one place for too long, so I often visit my friends in the kingdom sprawled around us. A lot of the homes down there are made of black stone with light green seaweed rooftops, a surprisingly pretty combination. I have lots of mermaid and mermen friends who I love to spend time with. I'll let you in on a few stories about them later on.
When I was at the MerCouncil, I thought it was crazy how different some of our kingdoms were! While some of us, like Brynn, Destiny, and I live in places where the line between commoners and royalty is really a formality, other MerKingdoms are really different! To Serena and Jia, it seemed obvious that commoners rarely visited with the royalty, but were friendly and respectful when they did. Zoey feels like an outcast in her own kingdom because her ancestors have widened that gap between the two for generations. Crystal, the poor dear, hasn't ever even set tail in the kingdom outside of her palace, being confined to either her home or, sometimes, the surface. No wonder Obsidian couldn't handle being there, being the wild spirit he is.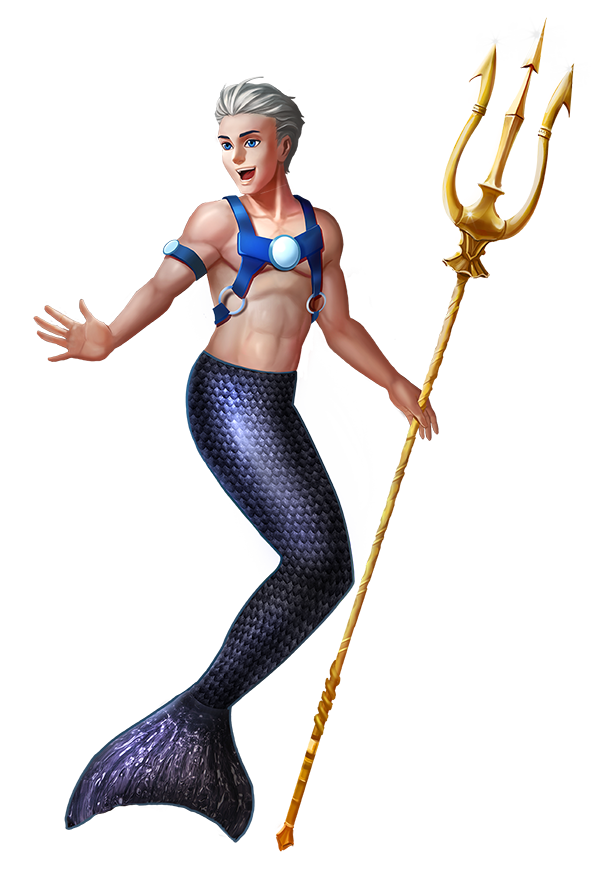 Obsidian. Even when I think his name I can stop myself from grinning ear to ear! That lovely boy is the only merman I've ever met that's like him. He's just so…Obsidian! I can't explain it! He's freeing and playful and oh so handsome! I feel so…me when I'm around him! All my life I've just floated along, accepting compliments about my beauty, batting my eyelashes at pretty mermen who come along, and flipping from one splash to another faster than I could throw a wave! But Obsidian was different from the moment we started our playful banter. I could sense his intelligence and goodness and I started to think, what if this merman could like me for more than my pretty face? What if he could like me for the way I'm trying to be better at telling the truth? For the times I've taken deep breathes and not gotten angry, hurdling powerful waves at the people I'm mad at? For the smiles I've spread to people that I knew needed them more than they needed any words? I'd give anything to find a merman that could like me for any of those things.
Holy seastars, what have I gotten into? You all must be bored out of your fascinating human minds! Well, I guess I've told you all more than you can stomach for just one letter. I didn't tell you much about Bubbles, but I'm sure you'll get to know him much better over the time we spend together! I can't wait for our adventure to start! See you soon, humans!